Стиль: Dance / Disco / Electronic / Pop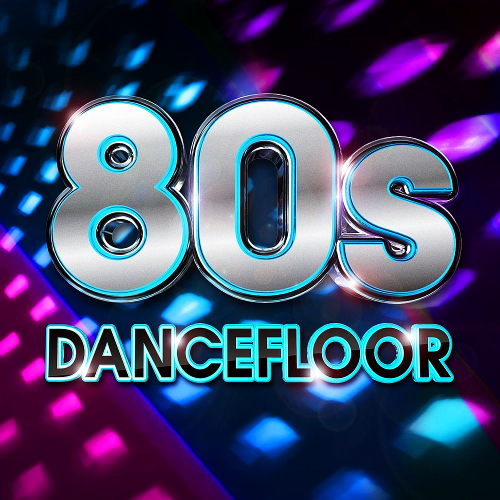 Artist: Various Performers
Title: 80s Drives Reserved Hits
Style: Synthpop, New Wave, Blue-Eyed Soul, Synthrock, Disco, Funk
Release Date: 25-09-2016
Format: CD, Compilation
Quality: VBR Kbps/Joint Stereo/44100Hz
Tracks: 77 Tracks
Size: 363 Mb / 05:03:25 Min

Tracklist:
01. The Temptations - Treat Her Like A Lady 03:51
02. Maria Vidal - Body Rock 03:42
03. David Lee Roth - California Girls 02:45
04. Mel & Kim - F.L.M. 03:54
05. Yarbrough & Peoples - Don't Stop The Music 04:04
06. Leo Sayer - More Than I Can Say 03:39
07. Belinda Carlisle - Live Your Life Be Free 04:21
08. Alice Cooper - Bed Of Nails 04:18
09. Elo - So Serious 02:41
10. Paul Davis - 65 Love Affair 03:43
11. Mary Jane Girls - All Night Long 03:41
12. Sydney Youngblood - If Only I Could 03:19
13. Billy Idol - Sweet Sixteen 04:14
14. Tracy Chapman - Fast Car 04:56
15. Robbie Dupree - Steal Away 03:28
16. Murray Head - One Night In Bangkok 03:55
17. Kim Appleby - Don't Worry 03:38
18. Juice Newton - Love's Been A Lil Bit Hard On Me 03:15
19. Toto Coelo - I Eat Cannibals 03:29
20. Kenny Loggins - Playing With The Boys 03:55
21. Blondie - Rapture 04:42
22. The Timelords - Doctorin' The Tardis 03:31
23. Moon Ray - Comanchero 03:58
24. Technotronic - Pump Up The Jam 03:37
25. A Flock Of Seagulls - The More You Live, The More You Love 04:08
26. Mai Tai - History 03:44
27. Pet Shop Boys - Always On My Mind 03:53
28. Ultravox - Dancing With Tears In My Eyes 04:05
29. Bangles - Manic Monday 03:06
30. Mr. Mister - Kyrie 04:28
31. Hazell Dean - Who's Leaving Who 03:43
32. Chris De Burgh - The Lady In Red 04:13
33. Cliff Richard - We Don't Talk Anymore 04:15
34. Kylie Minogue & Jason Donovan - Especially For You 03:58
35. Coldcut Ft. Lisa Stansfield - People Hold On 03:57
36. Bonnie Tyler - Fools Lullaby 03:51
37. Nick Kamen - I Promised Myself 03:48
38. Jackson Browne - Somebody's Baby 04:03
39. Kenny Loggins - I'm All Right 03:48
40. Toni Basil - Mickey 03:59
41. Stray Cats - Runaway Boys 03:00
42. Modern Talking - Brother Louie 03:40
43. Vangelis - Chariots Of Fire 03:34
44. Tiffany - I Think We're Alone Now 03:48
45. Lili & Susie - What's The Colour Of Love 03:29
46. Roxette - Dangerous 03:48
47. Hall And Oates - Did It In A Minute 03:40
48. Abc - The Look Of Love 03:27
49. Joe Smooth - Promised Land 03:07
50. Matia Bazar - Ti Sento 04:11
51. Secret Service - Ye Si Ca 03:10
52. Visage - Fade To Grey 03:57
53. New Order - Bizarre Love Triangle (Extended Dance Mix) 06:43
54. Midnight Star - Midas Touch 03:46
55. Mica Paris - My One Temptation 03:23
56. Trans X - Living On Video 05:54
57. Stray Cats - Rock This Town 03:24
58. Laura Branigan - Gloria 03:52
59. Lili & Susie - Oh Mama 03:50
60. Pet Shop Boys & Dusty Springfield - What Have I Done To Deserve This? 04:18
61. Tom Petty - Free Fallin' 04:14
62. Heart - Who Will You Run To 04:04
63. Rod Stewart - Young Turks 05:00
64. Meat Loaf - Dead Ringer For Love 04:24
65. Francesco Napoli - Balla Balla 04:18
66. Peter Schilling - Major Tom (Coming Home) 04:11
67. Quincy Jones, Feat. Dune - Ai No Corrida 04:03
68. Tone Band - Germany Calling 05:24
69. The Style Council - Long Hot Summer 03:48
70. Van Halen - Why Can't This Be Love 03:33
71. Pat Benatar - All Fired Up 04:29
72. Ronnie Milsap - I Wouldn't Have Missed It For The World 03:32
73. Troll - Jimmy Dean 03:58
74. Stars On 45 - Beatles's Medley 04:44
75. Feargal Sharkey - A Good Heart 04:36
76. F.R.David - Words 03:23
77. Jermaine Jackson - Let's Get Serious 03:32






Download with: Turbobit
Download with: Oboom
Download with: Hitfile
Download with: Rusfolder

Why Cant This Be Love is a song by the American rock band Van Halen for their seventh studio album. The song was released as the lead single from 5150 on February through Warner Bros. Records. It was the group's first single with lead vocalist Sammy Hagar, who replaced founding member David Lee Roth. It was released on both 7 and 12 single formats!
Dancing with Tears in My Eyes is the second single from Lament, Ultravoxs seventh studio album. The single effectively put Ultravox back on the map, peaking at no. 3 in the UK Singles Chart, and reaching the top 10 in several European countries.
This song marked Daviss second single release upon his departure from Bang Records to Arista, the first being Cool Night. Davis had originally titled the song 55 Love Affair, but Arista felt that some modernization was needed to target an audience whose teenage years had occurred , including Davis himself.

Для получения ссылок на скачивание, необходимо
зарегистрироваться
либо
войти
на сайт под своим именем.